Cape Town in March: the weather and best activities for your holiday
Picture the allure of a destination where the warmth of summer lingers as autumn tiptoes in, where nature prepares for a spectacular show of colour, and the hustle and bustle of the peak tourist season begins to wane. This is Cape Town in March, a month that elegantly straddles two seasons, offering a unique blend of warm days and cooler, refreshing evenings.
March presents a near-perfect harmony of temperate weather and less crowded attractions, making it one of the finest months to visit Cape Town. The city turns into a serene yet vivacious destination, balancing the excitement of urban life with the tranquillity of natural beauty. It's the time when Cape Town's charm is magnified, when each day seems to invite you to fall deeper in love with this South African city.
Cape Town weather in March
Now, imagine waking up to temperatures averaging around 26C (79F) in the day, the sun's golden rays ensuring it's warm but not scorching. As the evening unfolds, the temperature dips to a pleasant 15C (59F), just cool enough to enjoy a stroll along the V&A Waterfront with a light jacket. This transition in temperatures creates a versatile atmosphere that is sure to keep you comfortable throughout your adventures in Cape Town.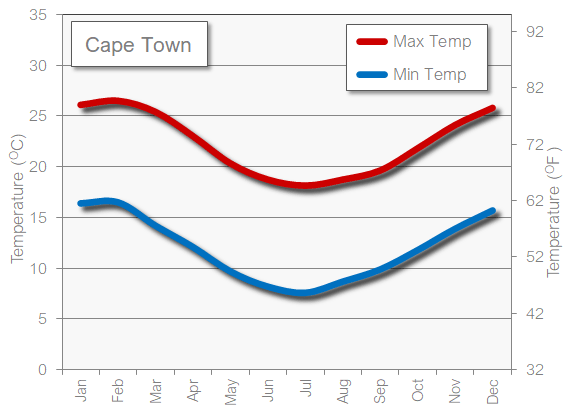 Sunrise begins to tease the horizon at around 6:30 AM, and the sun does not set until approximately 6:45 PM. This gives you ample hours of daylight to explore this enchanting city to your heart's content. The sun is warm but not overbearing, its intensity gradually reducing as the summer sun makes way for autumn.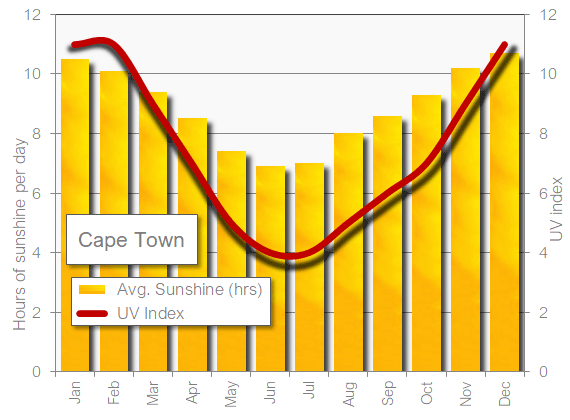 Cape Town in March is blessed with moderately low humidity, around 70-80%, resulting in a dry and comfortable climate. This means you'll feel less of the sticky, clammy sensation often associated with high humidity. On the other hand, rainfall is minimal, with about 3 to 6 wet days, totalling around 20mm, ensuring your outdoor plans remain undisturbed.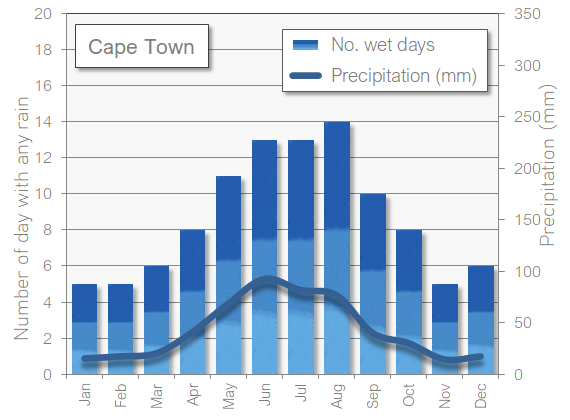 The sea temperature hovers around a comfortable 18C (64F), making it suitable for a range of water activities. Whether you fancy a quick dip in the ocean, a bout of surfing, or a leisurely kayak trip, the waters off Cape Town in March welcome you with open arms.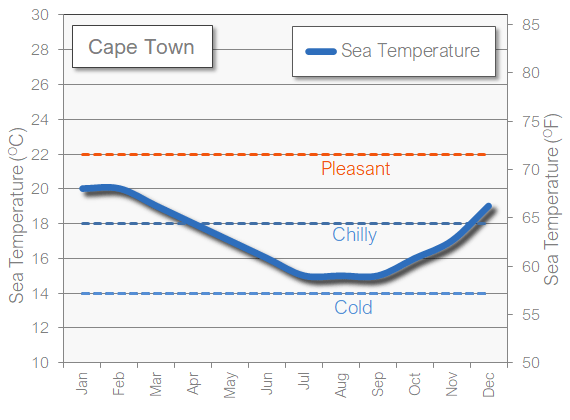 By March, the rush of peak tourist season has subsided, yet the city maintains a gentle buzz of activity. The tourists during this time mostly hail from the UK, Germany, and the US, seeking the beguiling mix of nature, culture, and adventure that Cape Town offers. The dip in tourist traffic and the end of peak season prices make March a comparatively less expensive time to visit, providing value for every dollar spent.
Families with young children will find Cape Town in March to be an ideal playground. The benign weather, coupled with a range of family-friendly activities like visiting the Two Oceans Aquarium, Boulders Beach, or exploring the Children's Play Centre at the V&A Waterfront, ensure a memorable time for the young and young at heart. In conclusion, Cape Town in March is a destination that gently weaves the charm of summer and autumn, offering a unique travel experience.
Clothes to pack for March in Cape Town
When packing for Cape Town in March, aim for versatility. Pack light clothing such as t-shirts and shorts for the warm days, but don't forget a light jacket or sweater for the cooler evenings.
The best months to visit Cape Town
The allure of Cape Town is at its peak from November to January. This period brings forth the warmth of the summer sun, with temperatures hovering around a pleasing 26°C (79°F). The city brims with activities, from beachside frolics to engaging cultural festivals, ensuring your itinerary is packed with vibrant experiences.
The worst months to visit Cape Town
June, being in the throes of winter, might not be the most inviting time to explore Cape Town. Frequent rain and cooler temperatures during this time could limit the scope of your outdoor adventures.
Fantastic activities for Cape Town during March
Here are six standout activities that make Cape Town a dazzling destination in March:
a) Visit the Kirstenbosch National Botanical Garden: As autumn paints the landscape with colours, a stroll through this garden becomes an even more captivating experience. Enjoy the curated plant life, views of Table Mountain, and perhaps a picnic amidst the serene scenery.
b) Explore Boulders Beach: This beach isn't just about crystal-clear waters and picturesque landscapes, but it's also home to a colony of African Penguins! March's pleasant weather offers an excellent opportunity to watch these adorable creatures up close.
c) Get Adventurous on Table Mountain: Whether you choose to hike up or take the cable car, the breathtaking views from the top are worth every bit of effort. Remember, the weather in March is perfect for outdoor adventures.
d) Indulge in Cape Town's Food Scene: With a bounty of fresh harvest in March, Cape Town's restaurants are bustling with innovation. Try out some local cuisine at the V&A Waterfront or explore the city's vibrant food markets.
e) Take a Day Trip to Cape Point: As part of the Table Mountain National Park, Cape Point offers stunning views, excellent hiking trails, and a chance to stand at the edge of the continent. The temperate March weather makes this trip all the more enjoyable.
f) Visit the Two Oceans Aquarium: Especially recommended if you're travelling with kids, this place offers fascinating insights into the marine life of the region. It's a great spot to spend a day learning and having fun.
Other holiday destinations recommendations for March
Costa Rica: March is an ideal time to visit Costa Rica as it marks the end of the dry season, offering plenty of sunshine and pleasant temperatures. Explore the stunning beaches of the Pacific and Caribbean coasts, go surfing, or immerse yourself in the rich biodiversity of the country's national parks. Costa Rica is known for its lush rainforests, vibrant wildlife, and thrilling adventure activities.
Marrakech, Morocco: In March, Marrakech experiences mild temperatures, making it an excellent time to explore this captivating city. Immerse yourself in the vibrant colours, bustling souks, and rich history of Morocco. Visit the iconic Jardin Majorelle, explore the historic Medina, and indulge in the flavors of Moroccan cuisine. With its exotic charm, Marrakech offers a unique blend of cultural immersion and sensory delights.
Algarve, Portugal: Head to the Algarve in Portugal for a delightful beach getaway in March. This southern coastal region boasts picturesque beaches, dramatic cliffs, and charming seaside towns. With mild temperatures and fewer crowds than in the peak summer months, you can relax on the golden sands, explore hidden coves, or indulge in fresh seafood. The Algarve offers a perfect blend of relaxation and cultural exploration.
Miami, Florida, USA: March brings sunny skies and warm temperatures to Miami, making it an excellent beach destination. From the famous South Beach to the trendy Art Deco District, Miami offers a vibrant atmosphere with beautiful sandy shores. Enjoy water sports, visit iconic landmarks, or indulge in the city's diverse culinary scene. Miami's unique blend of Latin American and American cultures adds an exciting flair to your vacation.
Phuket, Thailand: Experience the exotic beauty of Phuket in March. This Thai island is renowned for its stunning beaches, crystal-clear waters, and vibrant nightlife. Enjoy a tropical paradise with pleasant temperatures and lower humidity, allowing you to explore the island's natural wonders and indulge in water activities like snorkeling and island hopping. Phuket offers a mix of relaxation, adventure, and cultural exploration.
Amsterdam, Netherlands: March brings the arrival of spring in Amsterdam, making it a charming and vibrant destination. Explore the city's picturesque canals, visit the world-famous museums, and admire the blooming tulips at Keukenhof Gardens. Amsterdam offers a mix of cultural experiences, from historic sites to contemporary art scenes. Enjoy cycling through the city, indulging in Dutch treats, and immersing yourself in the friendly atmosphere.
Gold Coast, Australia: March is an ideal time to visit the Gold Coast in Australia. With its long stretches of sandy beaches, world-class surfing spots, and theme parks, it offers a fantastic vacation experience. The weather is warm and inviting, perfect for sunbathing, swimming, and enjoying outdoor activities. Explore the vibrant city life, venture into the lush hinterland, or simply relax on the beautiful coast.