Cape Town in August: the weather and best activities for your holiday
As August dawns in Cape Town, the city greets its visitors with a blend of serenity and vivacity. The sun casts golden hues on the iconic Table Mountain, glinting off the azure waters of the Atlantic. It is a sight that mesmerizes, yet there's a subtle thrill in the air, too. Could it be because August presents one of the best times to experience Cape Town? Let's find out.
August, sitting at the tail-end of the city's winter, presents a softer side of Cape Town. The city has shrugged off the intense chills of June and July but hasn't yet surrendered to the sweltering heat of summer. It is a mild interlude between two extremes, lending Cape Town a unique charm that is hard to resist.
Cape Town weather in August
A typical day in August sees the mercury rise to about 18°C (64°F) while at night, temperatures can dip to a cool 8°C (46°F). For those hailing from colder climates, this mild winter offers a refreshing respite, making the city a wonderful retreat.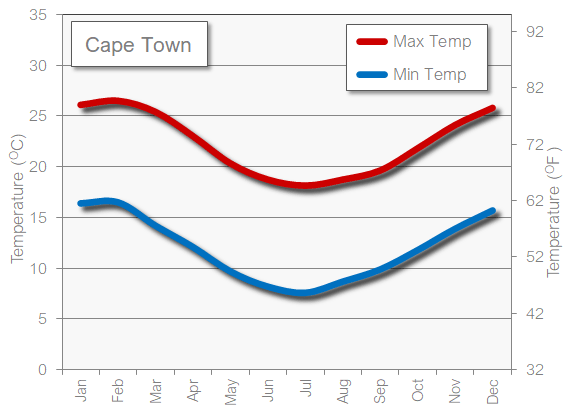 With an average of 9 hours of sunlight per day, the sun doesn't scorch but rather, gently warms your skin. The UV index is moderate, so although sunscreen is recommended, you can still comfortably explore without worrying about intense sunburns. Sunrises occur around 7:20 am and sunsets near 6:00 pm, meaning long days of delightful exploration.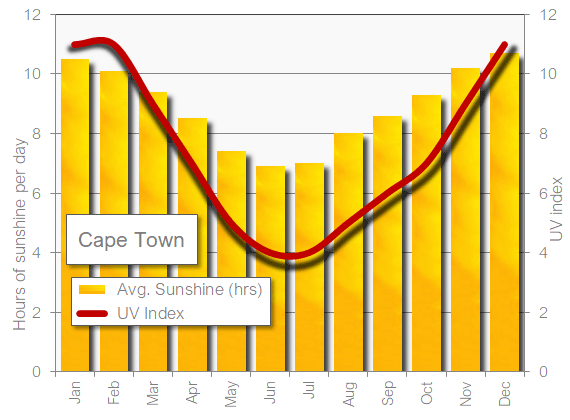 In terms of humidity, August is a comfortably dry month, with levels hovering around 70%. This creates a climate that feels far from oppressive. Instead, it's a comfortable coolness that encourages long walks on the beach or strolling the city's bustling streets.
Rainfall in August is a regular occurrence with an average of 9 rainy days. However, with a monthly accumulation of about 40 mm, these are typically short showers rather than torrential downpours. This intermittent rain only adds to the charm of Cape Town in winter, making cozy cafe visits even more delightful.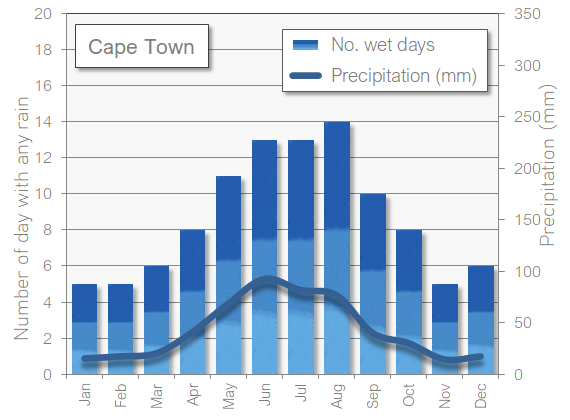 The sea in August maintains a cool 14°C (57°F), which might discourage swimming but promotes a different kind of beach enjoyment. Beachcombing, picnics, or simply soaking up the vistas become preferred activities.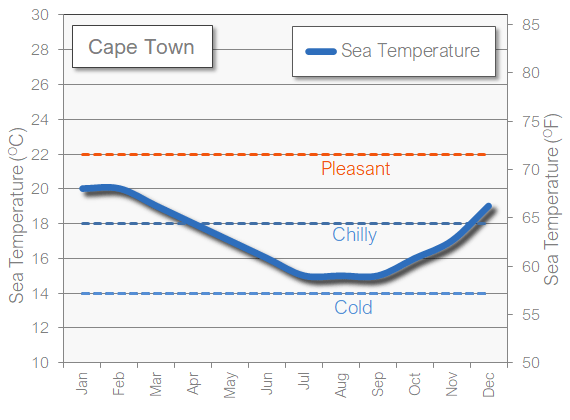 During August, Cape Town isn't overwhelmingly crowded. Many tourists, primarily from Europe, are attracted to Cape Town's milder winter. However, the usual summer rush is absent. It's a pleasantly busy city without the tourist hordes, providing a more authentic experience.
This month is considered shoulder season in terms of tourism, meaning it's typically less expensive than the peak summer months. It's the ideal time for those looking to experience Cape Town on a budget without compromising on the charm of the city.
August also works beautifully for families with young children. The mild weather, fewer crowds, and lower costs make it an appealing time for a family getaway. From kid-friendly attractions like the Two Oceans Aquarium to the educational and fun Iziko Museums, Cape Town has much to offer young minds in August.
In essence, August in Cape Town presents a beguiling mix of serene beauty, pleasant weather, and an authentic experience of the city. With its mild temperatures, manageable tourist numbers, and affordability, it's a compelling choice for discerning travelers seeking to discover South Africa's Mother City in a distinctive light.
Clothes to pack for August in Cape Town
Dressing for Cape Town in August calls for a blend of comfort and versatility. Pack layers, like t-shirts or light tops for the daytime warmth and a warm jacket or sweater for the cooler evenings.
The best months to visit Cape Town
If you're planning a visit to Cape Town, the months of November, December, and January are your prime candidates. These are the city's summer months, where you'll find long, sun-drenched days and temperatures that hover around a delightful 26°C (79°F). This is perfect weather for exploring Cape Town's exquisite beaches, engaging in water sports, or simply soaking up the sun. Additionally, these months play host to vibrant local festivals and markets, adding a lively charm to the city.
The worst months to visit Cape Town
Conversely, the month of June is typically considered less favorable for a visit. As the heart of Cape Town's winter, June experiences the coldest temperatures and the highest rainfall, with chilly winds often rolling in from the Atlantic Ocean. While there are certainly indoor attractions to keep one entertained, the typically vibrant outdoor life of Cape Town, like beach visits and mountain hikes, may be hampered by the weather during this time.
Fantastic activities for Cape Town during August
Cape Town is not short on fantastic activities in August, here's a list to get you started:
Whale Watching: August is the beginning of the whale-watching season. Take a day trip to Hermanus, about two hours' drive from Cape Town, for some of the world's best land-based whale watching.
Visit the Kirstenbosch Botanical Gardens: Nestled at the foot of Table Mountain, this garden is home to numerous indigenous plants. Winter rains in August make the flora especially lush and beautiful.
Beach Exploration: While swimming might be a bit chilly, the beaches in Cape Town are perfect for scenic walks, kite flying, or picnicking. You can even spot a few brave surfers clad in wetsuits, riding the Atlantic waves.
Explore the Winelands: The region's world-class vineyards offer wine tasting, cellar tours, and stunning views. Paarl, Stellenbosch, and Franschhoek are within easy reach for a day trip.
Table Mountain Hiking: The cooler temperatures of August are perfect for exploring Table Mountain's numerous hiking trails. The view from the top is worth every step.
Visit Robben Island: This historical island is where Nelson Mandela was imprisoned for 18 years. Tours provide a poignant look into South Africa's past and are a must for history enthusiasts.
Other holiday destinations recommendations for August
Santorini, Greece: The iconic blue domes and white-washed buildings of Santorini contrast beautifully with the azure Aegean Sea. August provides long sun-filled days, perfect for relaxing on the unique volcanic beaches and watching the world-renowned sunset over the caldera. Maui,
Amalfi Coast, Italy: Nestled in the south of Italy, the Amalfi Coast boasts dramatic cliffs dotted with pastel-coloured villages and shimmering turquoise seas. In August, it is a sun-drenched paradise, perfect for leisurely beach days, exploring charming coastal towns, and dining alfresco on exquisite Italian cuisine.
Bali, Indonesia: Known as the 'Island of the Gods', Bali is a tropical haven with lush landscapes, vibrant culture, and stunning beaches. August is the dry season here, making it ideal for sunbathing, surfing, and exploring the island's rich heritage.
Côte d'Azur, France: Also known as the French Riviera, Côte d'Azur is famed for its glamorous beaches, chic resorts, and charming countryside. In August, it provides a warm and sunny environment, excellent for lounging on the beach, yacht cruising, and sampling delectable French cuisine.
Hawaii: Maui, with its diverse landscapes, is a veritable feast for the senses. August brings the opportunity for beachcombing, snorkeling, and witnessing the breathtaking sunrise or sunset from the Haleakala Summit.
The Maldives: This island nation is the epitome of a tropical paradise, with its crystal-clear waters, abundant marine life, and luxurious overwater villas. August sits right in the middle of the dry season, providing perfect conditions for snorkeling, diving, and simply soaking up the sun on its powder-soft beaches.