Cape Town in February: the weather and best activities for your holiday
Cape Town, an iconic gem nestled in the heart of South Africa, welcomes February with open arms as it ushers in the tail-end of summer. It's a time when the city's natural beauty shines its brightest, and the warmth that permeates the air is met with an equally warm embrace from the local people. If you're wondering whether February is a good time to visit this vibrant city, the answer is a resounding 'yes'. Let's delve into the many reasons why.
February is when Cape Town is in full summer swing. The weather is delightfully warm, the days are long, and the city, a charismatic blend of natural grandeur and cultural richness, is buzzing with an infectious energy. The season encourages outdoor exploration and allows you to dive headfirst into the colourful tapestry of experiences that Cape Town has to offer.
Cape Town weather in February
The city in February experiences temperatures that peak at a comfortable 27°C (81°F) during the day. When nightfall arrives, the mercury dips to a still mild 16°C (61°F), allowing for a pleasant coolness to balance the daytime heat.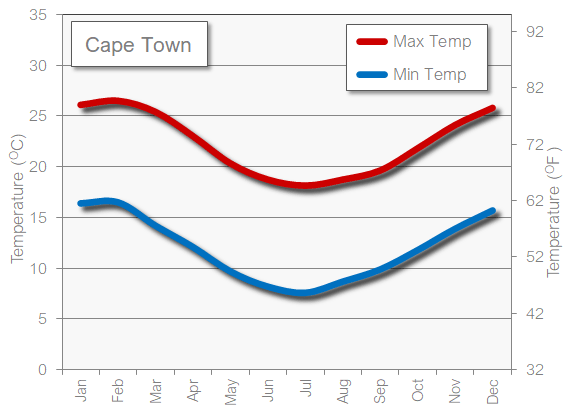 The hours of sunshine are generous in February. Cape Town basks in approximately 10 hours of daylight, from 6:30 am to 7:30 pm. The sun's intensity is relatively high, so a hat, sunglasses, and sunscreen are must-haves for your daytime explorations.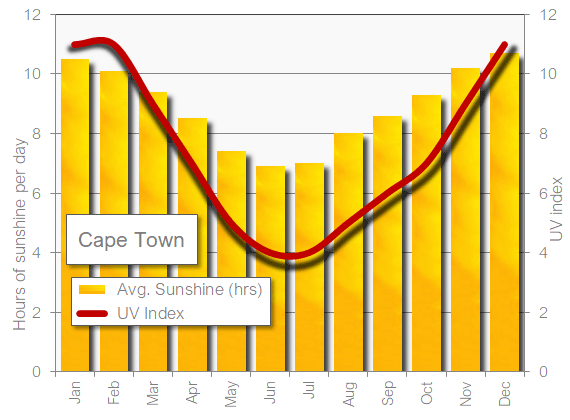 In terms of humidity, Cape Town in February leans towards the lower end of the spectrum, averaging around 40-50%. This level of humidity, coupled with the warm temperatures, gives the air a comfortable, dry warmth rather than a muggy discomfort.
Rainfall in February is a rare occurrence, with the city seeing about 3 days of rain, amounting to a meagre 10 mm. The likelihood of your plans being spoiled by a sudden downpour is fairly low.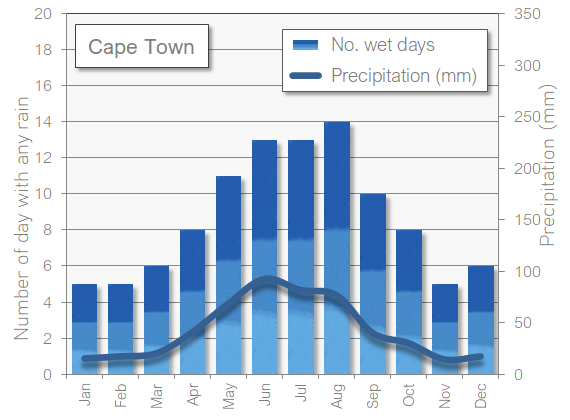 The sea temperatures in February are agreeably warm, averaging around 20°C (68°F). Perfect for a cooling dip or a refreshing surf, the ocean becomes an enticing playground under the February sun.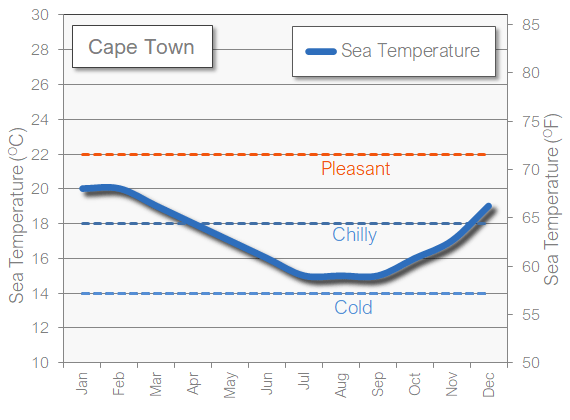 As for how busy the city is, February does see a fair share of tourists. However, the crowds are less dense than during the peak holiday period in December and January. Many of these visitors come from Northern Hemisphere countries, seeking refuge from the harsh winter in their home countries.
The pricing during February tends to be a bit cheaper than the peak holiday season but more expensive than the winter months. You'll find this period offers a good balance between cost and experience, as you still get to enjoy the pleasant summer weather without the high season price tags.
Moreover, February in Cape Town offers a family-friendly environment. The favourable weather, combined with a plethora of exciting activities suitable for kids of all ages, make it a brilliant choice for family vacations. The Boulders Beach Penguin Colony, the Table Mountain Aerial Cableway, and the Cape Town Science Centre are just some of the many attractions that promise to keep the young ones entertained.
In essence, February in Cape Town is a beautiful blend of pleasant weather, exciting activities, and an invigorating cultural experience. It's a month where the city's vibrancy is on full display, promising an unforgettable adventure to all who choose to visit during this time.
Clothes to pack for February in Cape Town
In Cape Town's February summer, lightweight clothes like shorts and t-shirts are ideal for daytime, while a light jacket might come in handy for cooler evenings. And of course, don't forget your swimsuit for those enticing beach days.
The best months to visit Cape Town
If your heart is set on Cape Town, consider visiting in November, December, or January. These months represent the city's summer season, characterised by balmy days and a vivacious local atmosphere. Whether you wish to laze on the sun-kissed beaches, dive into the shimmering waters, or partake in lively festivals, these months ensure you have an unforgettable experience.
The worst months to visit Cape Town
As much as Cape Town has to offer, the month of June can be a bit of a challenge. This mid-winter month typically experiences the highest rainfall and lowest temperatures, which might restrict your outdoor exploration.
Fantastic activities for Cape Town during February
Activities to indulge in during February in Cape Town:
Visit Boulders Beach: Renowned for its colony of African penguins, Boulders Beach offers an unforgettable experience. You can observe these adorable creatures in their natural habitat while enjoying the picturesque beach.
Explore Table Mountain: Ascend the mountain via the Aerial Cableway to catch a panoramic view of Cape Town. Walking trails at the summit allow for further exploration of the rich flora and fauna.
Beach Days: Cape Town's many beaches, including Clifton and Camps Bay, offer crystal clear waters and golden sands. February's warm sea temperature makes it perfect for swimming, sunbathing, or playing beach games.
Robben Island Tour: A boat ride to Robben Island, where Nelson Mandela was imprisoned, is an enlightening experience. Guided tours offer insights into South Africa's history and the struggle against apartheid.
Stroll the V&A Waterfront: Packed with shops, restaurants, and entertainment options, a stroll around the Victoria & Alfred Waterfront is a must. The location also offers stunning views of Table Mountain and the harbour.
Explore Kirstenbosch Botanical Gardens: This world-renowned garden is a haven for plant lovers. Walking trails, picnic spots, and guided tours make this a delightful day trip for all ages.
Other holiday destinations recommendations for February
Bali, Indonesia: Experience paradise on the Indonesian island of Bali. February offers excellent weather, with warm temperatures and minimal rainfall. The stunning beaches, vibrant culture, and lush landscapes make it a perfect escape. Whether you want to relax on pristine shores, try exhilarating water sports, or explore ancient temples, Bali has something for everyone in February.
Maldives: Escape to the Maldives for a truly idyllic beach getaway. With its crystal-clear turquoise waters, white sandy beaches, and luxurious resorts, this tropical paradise is a dream come true. In February, the Maldives experiences dry and sunny weather, ideal for snorkeling, diving, and simply basking in the sun. Enjoy breathtaking sunsets and indulge in exquisite cuisine during your unforgettable stay.
Canary Islands, Spain: Experience the perfect blend of European charm and tropical vibes in the Canary Islands. Located off the coast of North Africa, this Spanish archipelago boasts stunning volcanic landscapes, golden beaches, and vibrant coastal towns. In February, the Canary Islands enjoy mild temperatures, making it an excellent choice for sun-seekers. Explore the unique landscapes, indulge in local cuisine, or simply unwind on the inviting beaches.
Zanzibar, Tanzania: Discover the unspoiled beauty of Zanzibar, an island off the coast of Tanzania in East Africa. With its pristine beaches, turquoise waters, and rich cultural heritage, Zanzibar is a hidden gem for February vacations. The island experiences warm weather during this time, offering an ideal environment for relaxation, snorkeling, and exploring the fascinating historic Stone Town.
Kyoto, Japan: February in Kyoto offers a magical experience as the city is adorned with cherry blossoms. Witness the ethereal beauty of the delicate pink flowers blooming across the city's parks and temples. Immerse yourself in Japanese culture, visit ancient shrines, and indulge in traditional tea ceremonies. With fewer crowds than in spring, February is an ideal time to explore Kyoto's cultural treasures.