Monastir, Tunisia in July - The weather and is it a good time of year to visit?
A jewel in the crown of Tunisia's coastal cities, Monastir presents a fascinating blend of historical richness, lively markets, and sun-drenched beaches. The city is particularly known for its enticing array of cultural experiences, ranging from exploring the Ribat (an imposing fortress that stands guard over the city) to wandering through the vibrant Medina.
But if you're wondering whether July is a good time to visit Monastir, it depends on your tolerance for heat. July is one of the hottest months, with daytime temperatures often soaring, which can be challenging for some visitors.
The weather of Monastir through the year
Monastir enjoys a Mediterranean climate characterized by hot, dry summers and mild, wet winters. This climate allows for sun-soaked beach days for a good part of the year. However, it's crucial to bear in mind the seasons when planning your visit.
Monastir's weather in July
The city's July temperatures typically range from a nighttime low of about 22°C (72°F) to a daytime high often exceeding 33°C (91°F). Some days may even see the mercury nudging towards the high 30s°C (over 100°F). While the nights can be pleasantly warm, the days, particularly at noon, are quite hot, making this a less favourable time for those who struggle with high temperatures.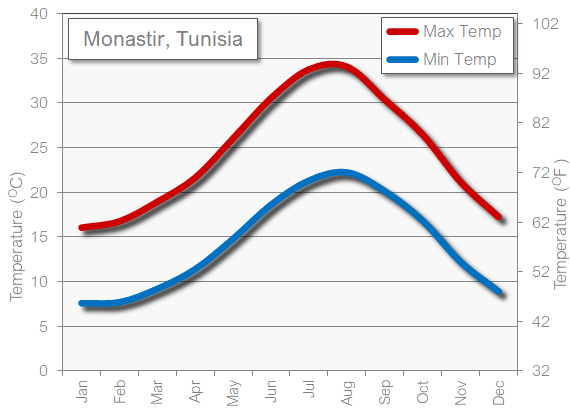 With the summer solstice just past, July brings long, sun-filled days to Monastir. There's daylight for roughly 14 hours, and most of those hours are drenched in sunshine. While cloud cover is minimal in July, it's prudent to apply ample sunscreen and wear a hat to protect yourself from the midsummer sun.
As for rainfall, July is among the driest months in Monastir. Precipitation levels are meager, with the city recording just about 10mm of rain on average. You'd be quite unlucky to experience a rainy day in July. However, this lack of rain does contribute to the elevated humidity levels, which might add to the perceived heat.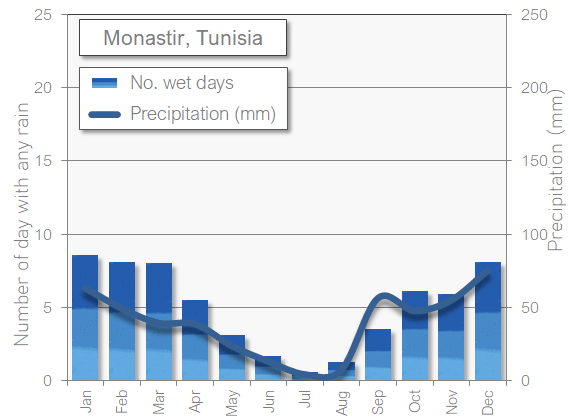 In contrast to the sweltering temperatures on land, the Mediterranean Sea offers a respite with its inviting, warm waters. Sea temperatures around Monastir hover around a comfortable 25°C (77°F) in July, making it perfect for a refreshing swim or engaging in other water-based activities. Do note, however, that the beaches can get busy in the heat of summer.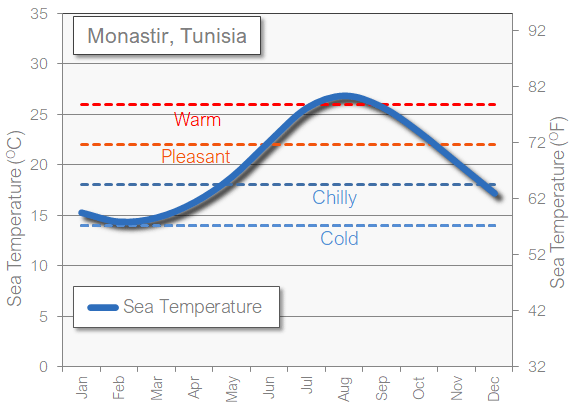 July sees Monastir bustling with activity. It's the high season for tourism, attracting travelers from near and far who're ready to bask in the sun-soaked beaches. While the vibrant atmosphere can be enticing, expect a fair share of crowd at major attractions and in the city center. European tourists, particularly from France and Germany, often constitute a considerable portion of the visitor demographic during this time.
With the surge in visitors, July can be a pricier time to visit Monastir compared to other months. Hotels and rental rooms may increase their rates in response to the high demand, and some popular accommodations could even be sold out. Yet, savvy travelers can still find deals by booking in advance or looking at properties a bit further from the city center.
As for families with young children, the suitability of a July visit depends largely on how well the kids can handle the heat. The warm sea water is ideal for swimming, and most outdoor activities are in full swing, but the high temperatures might be challenging, especially during peak afternoon hours. So, plan your outdoor activities early in the morning or later in the afternoon, and spend the hot midday hours in shaded or indoor locations.
Clothes to pack for July in Monastir
When it comes to packing for a Monastir visit in July, think light and breathable. With temperatures often soaring, cotton or linen clothes, shorts, and sundresses will be your best friends. A wide-brimmed hat, sunglasses, and high-SPF sunscreen are a must for protection against the strong sun. Even though nights are warm, packing a light shawl or cardigan can be handy for the occasional cooler evening or air-conditioned indoor spaces.
The best months to visit Monastir
The best time to visit Monastir is often in the spring (April to June) or autumn (September to November). During these months, the weather is typically pleasant and mild, perfect for exploring the city's historical sites or relaxing on the beaches. Plus, these are shoulder seasons, meaning fewer crowds and better deals on accommodation.
The worst months to visit Monastir
On the flip side, the peak summer months of July and August could be considered as less ideal times for a visit, especially if you're not a fan of intense heat. With daytime temperatures frequently rising above 30°C (86°F), outdoor activities can become less enjoyable. Moreover, these are also the busiest months for tourism, leading to crowded attractions and potentially higher prices.
Fantastic activities for Monastir during July
Monastir Beach is a must-visit in July. Its warm, turquoise waters are perfect for swimming, and the sandy shore offers plenty of space for sunbathing or building sandcastles. Don't forget to pack your favorite beach gear!
The Ribat of Monastir, an ancient fortress, offers an interesting dip into history. Despite the heat, its stone walls remain refreshingly cool. Climbing up to the watchtower will reward you with panoramic views of the city and the sea.
A visit to the Mausoleum of Habib Bourguiba, the first President of Tunisia, is highly recommended. Its grand architecture and serene ambience make it a memorable stop. The site is also well shaded, providing a respite from the July sun.
A boat trip to Kuriat Islands is an unforgettable adventure. These uninhabited islands, rich in marine life, offer excellent opportunities for snorkeling. Look out for the rare loggerhead sea turtles that frequent the area!
Visiting the Monastir Marina in the cool of the evening is delightful. The marina is dotted with cafes and restaurants offering delicious local cuisine. It's an excellent place to relax, enjoy a meal, and watch the sunset.
The Monastir Center Park is a fun destination for families with kids. This amusement park offers various rides and attractions that keep the young ones entertained. In July, the water-themed attractions are particularly popular.
For a different perspective of Monastir, take a carriage ride around the city. It's a fun way to see the sights, particularly in the cooler early morning or late afternoon.
Monastir's markets, or souks, are bursting with life. From traditional pottery to hand-woven carpets, you'll find an array of goods. Remember, bargaining is part of the experience!
Explore the Cap Africa Amusement Park, just a short drive from Monastir. It's a fabulous place to enjoy various thrill rides and games, especially during the cooler evening hours.
Embark on a day trip to the city of Sousse, just 20 kilometers away. It's home to the Medina of Sousse, a UNESCO World Heritage Site, boasting a fascinating array of historical structures.