Monastir, Tunisia in August - The weather and is it a good time of year to visit?
Monastir, nestled along Tunisia's eastern coastline, is a city that enchants with its rich tapestry of culture, history, and picturesque landscapes. A bustling tourism hotspot, the city is famed for its pristine beaches, verdant parks, and historical landmarks, which lend themselves to a captivating visit for the culturally inclined. August can be an incredibly hot period, but for the sun-lovers and beach enthusiasts, this might be just the perfect time.
The weather of Monastir through the year
In terms of climate, Monastir presents a Mediterranean profile, marked by warm, dry summers and mild, wet winters. The golden sands shimmer most brightly between May and October, while the cooler months from November to April carry the fragrance of the occasional rain. This, in brief, is Monastir's weather persona.
Monastir's weather in August
The month of August brings the heat in full swing. Daytime maximums typically hover around 33C (91F), while nighttime offers a mild respite with minimums around 24C (75F). The days are undeniably hot, but the coastal breeze lends a touch of comfort, particularly as the sun begins to dip.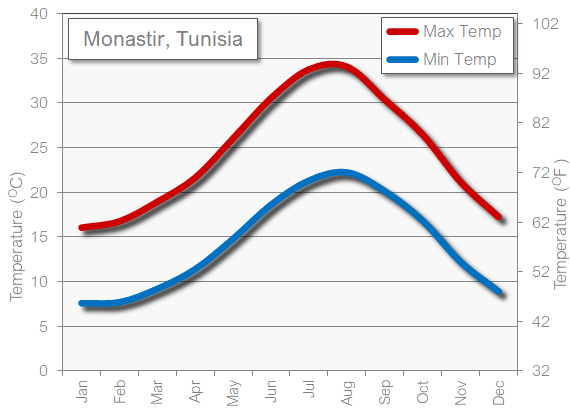 As August steps in, it carries the summer's longest days on its shoulders. With approximately 13 to 14 hours of daylight, there's plenty of sun to soak up. Most days of the month are clear, making it a bright and sunny period, with an occasional puff of cloud adorning the sky.
When it comes to rainfall, August is amongst the driest months in Monastir. Average precipitation levels barely touch 10mm, with the likelihood of rainy days being quite slim. Showers, when they occur, tend to be brief and rarely disrupt plans. Humidity is moderate, but the heat might make it feel more intense.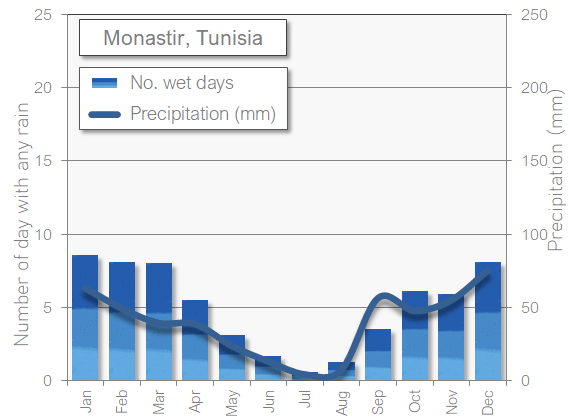 As for the sea temperature, August presents the Mediterranean at its warmest. Sea temperatures peak around a balmy 26C (79F), transforming the beaches into a delightful playground for swimmers and water sport enthusiasts. Just remember to keep that sunblock handy!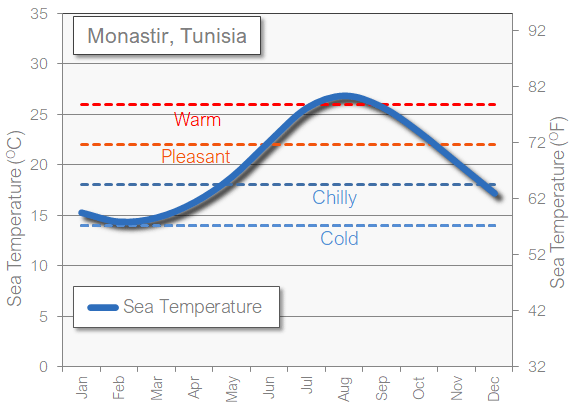 August is the height of summer and a peak tourism period in Monastir. With its sun-drenched beaches and balmy sea, the region buzzes with activity as tourists, both local and international, flock to the coast. During this time, the city bustles with a lively energy, its streets and landmarks thrumming with activity.
Monastir's allure does cause a surge in prices during August. Hotel rates and flight costs tend to peak, reflecting the high demand. However, booking in advance or looking for last-minute deals can sometimes offer reasonable rates. Vacation rentals can be hard to come by at short notice, so it's always wise to plan ahead.
As for family suitability, August in Monastir offers a mixed bag. While the heat might be intense for younger children, the allure of the beaches and the sea, as well as many family-friendly attractions, make it an exciting time to visit.
In August, Monastir welcomes visitors from all corners of the globe, with a notable influx from European countries, particularly France and Germany, lured by the hot Mediterranean summer.
While August in Monastir might test your tolerance for heat, it rewards you with its vibrant life and warm, sparkling waters. It's the city at its most lively, a chance to embrace the sun and enjoy the Mediterranean's balmy embrace. A hat, some sunscreen, and a spirit for adventure might be all you need to make the most of this sun-drenched month in Monastir.
Clothes to pack for August in Monastir
Packing for Monastir in August should focus on staying cool. Light, breathable clothing is a must, with cotton dresses, shorts, and t-shirts being ideal. A wide-brimmed hat and sunglasses are essential to protect from the intense sun. For the evenings, lightweight jackets or shawls can come in handy as the temperature drops a bit.
The best months to visit Monastir
The best months to visit Monastir would be during the shoulder seasons, April to June and September to November. These months offer milder temperatures, making sightseeing more comfortable while still offering plenty of sunshine for beach activities. Also, these periods generally see fewer crowds and lower prices.
The worst months to visit Monastir
On the other hand, January and February could be considered less desirable for a visit. Despite the milder temperatures, these months tend to be the wettest, with occasional showers that could hinder outdoor activities. Also, while it's still warmer than most European winters, it might not be warm enough for those looking for a classic beach holiday.
Fantastic activities for Monastir during August
Visiting the Ribat: Start your journey in Monastir by exploring the Ribat, a fortress with a rich history that dates back to the 8th century. Climb to the top for panoramic views of the city and the coastline. Remember to bring your camera!
Lounging at Monastir Beach: With the sun at its zenith, Monastir's beaches are in full bloom. Clear waters and golden sands beckon, offering ample opportunities for swimming, sunbathing, and water sports. Don't forget to apply your sunscreen.
Exploring the Mausoleum of Habib Bourguiba: Pay a visit to this magnificent structure, the final resting place of Tunisia's first President. Admire the splendid modern Islamic architecture and gain insights into Tunisia's history.
Boating in the Marina: Spend a leisurely afternoon at Monastir's Marina, dotted with yachts and fishing boats. You might also enjoy a boat trip along the coast, where you can feel the sea breeze and admire the shoreline.
Visiting the Monastir Centre: Here's a chance to go on a shopping spree! The Monastir Centre offers a variety of stores and local boutiques, where you can find souvenirs, traditional crafts, and Tunisian delicacies.
Exploring the old Medina: Lose yourself in the labyrinthine lanes of Monastir's old Medina. Discover charming shops, buy local handicrafts, and taste local street food. Remember to haggle – it's part of the experience!
Day Trip to Sousse: Just a short drive away, the city of Sousse offers another taste of Tunisian life. Visit the UNESCO-listed Medina, explore the Archaeological Museum, and enjoy a coffee in one of the many bustling cafés.
Trying Tunisian Cuisine: Visit local restaurants and try Tunisian dishes like couscous, brik (a kind of pastry), and seafood-based meals. Each bite is a delicious discovery.
Golfing at the Palm Links: For golf enthusiasts, a round or two at the Palm Links course can be a refreshing way to spend the day. Enjoy the green fairways and beautiful coastal views.
Visiting Kairouan: A little further afield, Kairouan, another UNESCO World Heritage site, offers a different kind of adventure. Visit the Grand Mosque, one of the most important Islamic sites in Africa, and explore the city's ancient Medina.