Bodrum, Turkey in October: the weather and best activities for your holiday
Bodrum, Turkey, is a gem on the Aegean Sea, renowned for its stunning beaches, rich history, and vibrant local culture. A blend of ancient ruins and modern luxury, Bodrum has something for every traveller, from the magnificent Castle of St. Peter to the bustling bazaars and delectable seafood.
Is October a good time to visit Bodrum? Yes, October can be a delightful time to explore this coastal city. While the summer crowds have dispersed, the weather remains pleasant, albeit cooler, allowing for a more tranquil and intimate experience.
Overview of Bodrum's Climate
Bodrum enjoys a Mediterranean climate, characterised by hot, dry summers and mild, wet winters. Summers are often scorching, with temperatures reaching up to 35C (95F), while winters are cooler, ranging between 10C to 15C (50F to 59F). Spring and autumn offer moderate weather, making these seasons favoured by those looking for comfortable temperatures.
Bodrum weather in October
In October, Bodrum starts to cool down from the summer heat, offering a more pleasant climate. The average daytime temperature ranges from 20C to 25C (68F to 77F), while nighttime temperatures may drop to around 15C (59F). The weather in October is mostly mild, making it a fantastic time for outdoor activities and exploration without the sweltering heat of the peak summer months.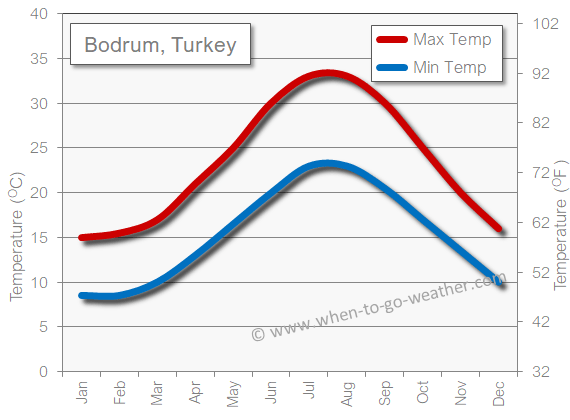 October in Bodrum sees a reduction in daylight hours compared to the extended summer days. Expect around 11 to 12 hours of daylight, with the sun rising at approximately 7:00 AM and setting around 6:30 PM. Sunshine is still plentiful, although clouds begin to gather more frequently. On average, you can anticipate around 7 to 8 hours of sunshine per day, offering a good balance of sun and shade.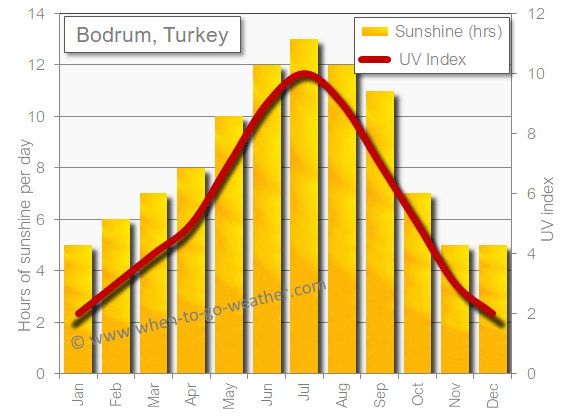 October marks the beginning of the wetter season in Bodrum, yet heavy rain is still relatively rare. The average precipitation levels are around 40mm for the month, spread across 5 to 6 days. While the likelihood of encountering a rainy day is higher compared to the dry summer months, rainfall is typically light to moderate and does not last long. Humidity starts to rise in October but generally remains at comfortable levels, ranging between 60% to 75%.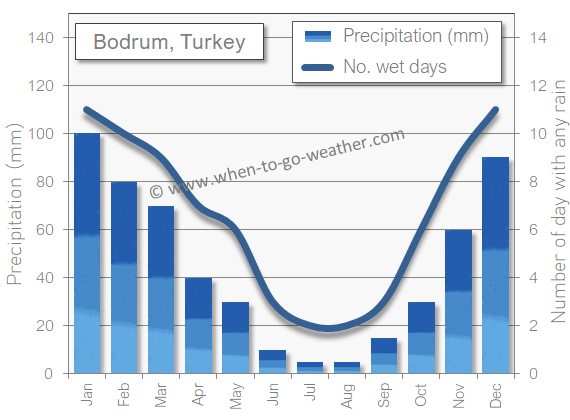 For those looking to dip into the Aegean Sea, October still offers inviting water temperatures. The sea ranges from 20C to 23C (68F to 73F), which may be considered slightly cool for some but still enjoyable for a refreshing swim. As the month progresses, the sea gradually cools, so earlier in October would be preferable for those prioritising beach activities.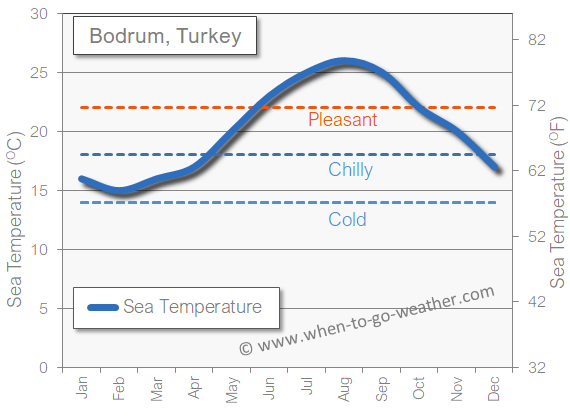 October in Bodrum, Turkey is considered a shoulder tourism season. As the scorching summer heat gives way to more temperate weather, you'll find a respite from the summer crowds. The area is not as bustling as it is during the peak season, offering a more tranquil atmosphere. It's a time when the streets are still lively but less congested, and the beaches are less crowded.
In terms of expenses, October is generally considered a more budget-friendly time to visit Bodrum. With the high summer season over, many hotels and rental rooms offer deals and discounts to attract visitors. You won't be hard-pressed to find accommodation at a reasonable price. Some luxury resorts may even have substantial off-season reductions.
The nightlife in Bodrum during October remains vibrant, though somewhat scaled down from the summer months. Many bars and nightclubs are still open, providing ample opportunities for evening entertainment. Live music can be heard, and the local cuisine can be enjoyed without the need for a reservation days in advance. However, some of the beach clubs may have closed or reduced hours, so it's wise to check in advance if you have specific venues in mind.
Families with young children will find October an excellent time to explore Bodrum. The more temperate weather and fewer crowds make sightseeing and outdoor activities more enjoyable. Attractions like the Bodrum Castle and the ancient ruins are less hectic, providing a more educational and relaxed environment for children to learn and explore.
The average age of tourists during this time tends to be more varied. October attracts not only retirees seeking a serene getaway but also younger couples and families looking for a cost-effective holiday without the summer hustle. The blend of generations adds a rich and diverse atmosphere to the city.
October sees a mix of European visitors, particularly from the UK, Germany, and the Netherlands. The pleasant weather, reduced costs, and relative proximity make Bodrum an appealing autumn destination for many European travellers.
Clothes to pack for October in Bodrum
When visiting Bodrum in October, packing requires a blend of summer and autumn clothing. During the day, the weather remains warm, so short-sleeved shirts, T-shirts, and comfortable trousers or skirts are advisable. Sunglasses and a hat are still necessary for sun protection. At night, temperatures can drop, so bringing a light jacket or sweater is wise. Footwear should be comfortable for walking, and if you're planning to swim, don't forget your swimwear.
In three sentences: Pack a mix of summer and autumn attire for Bodrum in October. T-shirts and lightweight clothing are suitable for daytime explorations, but a light jacket may be needed for cooler evenings. Comfortable walking shoes, a hat, and sunglasses are essential for your holiday.
The best months to visit Bodrum
The best months to visit Bodrum are from late spring to early autumn, specifically May to October. During these months, the weather is warm but not excessively hot, making it ideal for outdoor activities, beach relaxation, and exploration of the historical sites. The city is vibrant, with all attractions and facilities open, and there's a good balance between lively atmosphere and space to breathe. If you're looking to avoid the peak crowds while still enjoying good weather, May, June, September, and October are particularly favourable.
The worst months to visit Bodrum
The least favourable months to visit Bodrum are typically December, January, and February. These winter months can be quite chilly, with temperatures often dropping to 10C (50F) or lower. Many beach resorts and outdoor attractions may be closed, and the weather may be too cool for swimming or sunbathing. While the area never completely shuts down, and some might enjoy a more relaxed pace, the winter season lacks the vibrant atmosphere and full range of activities that make Bodrum a sought-after destination in warmer months.
Fantastic activities for Bodrum during October
1. Visit Bodrum Castle: Also known as the Castle of St. Peter, this medieval fortress offers stunning views of the harbour and city. Built in the early 15th century, you can explore the history of the Crusaders, tour the Museum of Underwater Archaeology, and wander the well-preserved ramparts. With fewer crowds in October, you'll have the chance to take in this monumental site at a leisurely pace.
2. Enjoy a Traditional Turkish Bath: A visit to a Hammam or Turkish Bath is a must when in Bodrum. These baths are an essential part of Turkish culture and offer a unique and relaxing experience. In October, a Hammam visit is particularly pleasant after a day of sightseeing, providing an opportunity to unwind and immerse oneself in local customs.
3. Explore the Ancient Ruins of Ephesus: Just a day trip from Bodrum, the ancient city of Ephesus is a UNESCO World Heritage site and one of the best-preserved Roman cities in the Mediterranean region. Walk the marbled streets, see the Library of Celsus and the Great Theatre. October's pleasant weather provides the perfect conditions for exploring these incredible ruins without the summer's overwhelming heat.
4. Sail the Turquoise Coast: October is still warm enough for sailing, and the calm waters of the Aegean Sea are ideal for a day trip or longer cruise. Explore secluded bays, snorkel in crystal clear waters, or simply relax on deck and soak up the sun. With fewer tourists, you can find more peaceful spots to anchor and enjoy the beautiful surroundings.
5. Stroll the Bodrum Farmers' Market: Experience local life by visiting the farmers' market in Bodrum. Here, you can taste and purchase fresh produce, herbs, cheeses, and traditional Turkish delicacies. In October, the market is abundant with autumnal fruits and vegetables, offering a colourful and authentic taste of Turkish cuisine and culture.
6. Discover the Mausoleum at Halicarnassus: One of the Seven Wonders of the Ancient World, although now in ruins, the Mausoleum at Halicarnassus still offers a fascinating glimpse into ancient Greek history. The site has an informative museum, and the remaining structures provide a sense of the grandeur that once was. October's mild weather makes exploring the outdoor ruins comfortable and enjoyable.
7. Attend the Bodrum Cup Regatta: If your visit aligns with the annual Bodrum Cup Regatta, usually held in October, don't miss the chance to witness this vibrant sailing event. Classic wooden yachts and modern vessels race across the azure waters, creating a spectacle that's a joy for both sailing enthusiasts and casual observers alike. The festive atmosphere onshore adds to the excitement, with music, food, and entertainment to enjoy.
8. Hike the Lycian Way: For the more adventurous, October is an ideal time to hike parts of the famous Lycian Way. This long-distance footpath runs along the coast and offers stunning views of the sea, mountains, and ancient ruins. Whether you choose a short day hike or a more extended trek, the cooler October temperatures make this an invigorating and unforgettable experience.
Other holiday destinations recommendations for October
i) Cyprus: The golden beaches of Cyprus are a delight in October. The summer crowds have dwindled, but the warmth remains, perfect for peaceful beach days. If you're up for a little adventure, the sea is still warm enough for water sports too!
ii) Tenerife, Canary Islands: Tenerife keeps the summer vibes alive even in October. Pleasant temperatures and abundant sunshine make it perfect for beach lounging or exploring the island's volcanic landscapes. Don't forget to visit the Siam Park water park, it's a fun-filled experience for all ages.
iii) Bali, Indonesia: In October, Bali emerges from its peak tourist season, offering tranquil beaches and great surf conditions. Plus, you can take part in the annual Nusa Dua Fiesta, a celebration of art, culture, and sports in Bali.
iv) The Seychelles: October in the Seychelles means less rainfall and lots of sunshine. The weather is excellent for sunbathing, snorkeling or simply admiring the vibrant marine life. If you're a bird watcher, the annual Bird Festival also takes place in October.
v) Maui, Hawaii: October is a great time to experience the tropical beauty of Maui. The weather is ideal for beach activities and water sports. Plus, it's also the start of the whale-watching season!
Or for non beach focused holidays consider:

i) Kyoto, Japan: October is arguably the best time to visit Kyoto. The heat of summer has passed, and the city is awash with vibrant autumn colours. The peaceful temples and tranquil gardens become even more picturesque with the fall foliage.
ii) Salzburg, Austria: October brings a crisp freshness to this European gem. The city's baroque architecture, fortresses, and beautiful gardens are surrounded by autumnal hues, while the Salzburg Culture Days festival fills the city with music and theatrical performances.
iii) Santa Fe, New Mexico, USA: For a slightly unusual destination, consider Santa Fe in October. The city is rich with history, arts, and culture. The crisp weather is perfect for exploring the city's unique architecture and art scenes. Plus, the annual Albuquerque International Balloon Fiesta nearby is a sight to behold, with hundreds of hot-air balloons filling the sky!