Bodrum, Turkey in May: the weather and best activities for your holiday
Nestled on the southwestern coast of Turkey, Bodrum is a captivating blend of ancient history, vibrant culture, and stunning natural beauty. This Aegean gem is renowned for its crystal-clear waters, charming whitewashed buildings, and rich historical sites, such as the Bodrum Castle and the ancient city of Halicarnassus.
Is May a good time of the year to visit Bodrum? Yes, indeed. May signals the onset of summer, offering warm temperatures without the intense heat and crowds of the peak season, making it an appealing time for exploring all that Bodrum has to offer.
Overview of Bodrum's Climate
Bodrum's climate is typically Mediterranean, characterized by hot, dry summers and mild, wet winters. The summer months, from June to September, can be quite hot, with temperatures soaring above 30C (86F). Winters are mild with more rainfall, especially between November and February. Spring and autumn are considered the most pleasant seasons, with moderate temperatures, fewer crowds, and a blend of sunny and slightly breezy days.
Bodrum weather in May
In May, Bodrum enjoys a delightful transition into summer, with average daytime maximum temperatures ranging around 24C (75F) and nighttime minimum temperatures dipping to about 15C (59F). These temperatures provide a pleasing balance of warmth without being too hot, making it an ideal time for outdoor activities, sightseeing, and enjoying the beach. The weather is generally pleasant and inviting.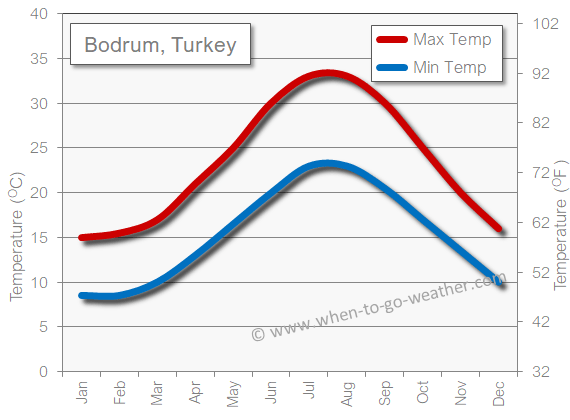 May sees an increase in daylight hours in Bodrum, with the sun rising around 6:00 AM and setting close to 8:00 PM. This offers ample time to enjoy various outdoor pursuits and soak in the coastal beauty. During May, days are mostly sunny with clear blue skies, allowing approximately 10-11 hours of sunshine daily. Clouds are infrequent, and the likelihood of overcast or gloomy days is relatively low.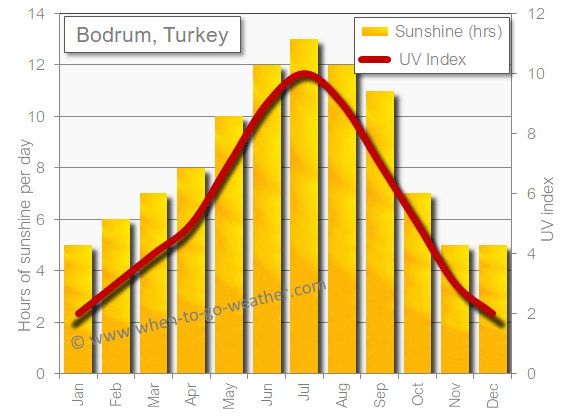 May marks the beginning of Bodrum's dry season, with rainfall levels significantly decreasing compared to the preceding months. Average precipitation levels are around 25mm, spread across four to five days of the month. The likelihood of rainy days is minimal, and heavy showers are rare. The humidity in May is moderate and generally not uncomfortable, contributing to the overall pleasant weather experience.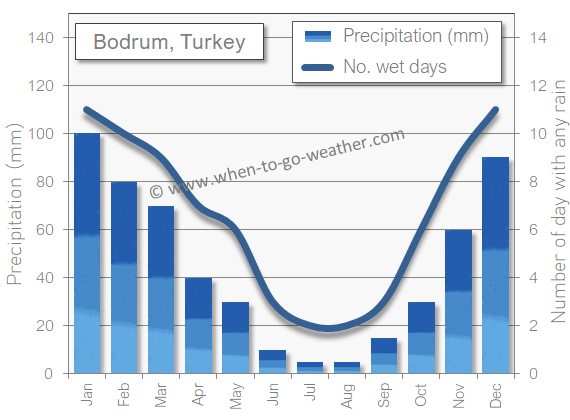 Sea temperatures in Bodrum during May begin to warm up, reaching around 19-20C (66-68F). While this may be considered a bit cool for some swimmers, it is still acceptable for swimming, especially for those who find refreshing waters invigorating. As the month progresses, the sea continues to warm, making beach activities increasingly enjoyable. Many may find this an opportune time to engage in water sports and beachside relaxation without the summer's intense heat.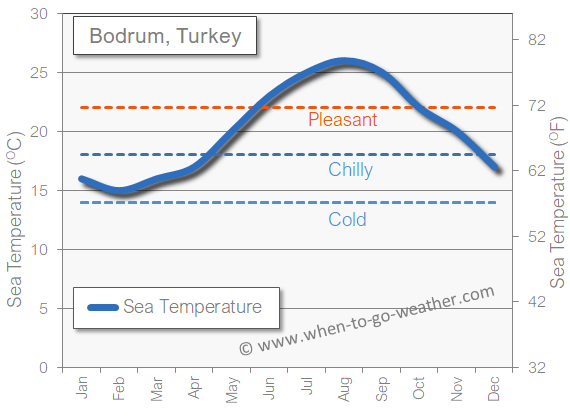 In Bodrum, Turkey, May is the harbinger of the upcoming high season, considered a "shoulder" period as it transitions from the more relaxed pace of the off-season months. The weather is becoming increasingly warm and inviting, and the region begins to awaken from its winter slumber. Visitors can enjoy a head start on summer with all the appeal of Bodrum's rich culture, historical landmarks, and stunning coastline, without the thronging masses that come later.
As for May, it's a month when Bodrum is not overly crowded, allowing you to explore the beautiful surroundings with ease and comfort. You'll find attractions and streets still accessible, with only hints of the summer rush to come. The prices reflect this too, with May being a relatively inexpensive time to visit compared to the peak summer months. Hotels and rental rooms are generally available at attractive rates, and the savvy traveller might discover some appealing deals.
The nightlife in May is on the rise but still not in full swing. Many clubs and bars are open, and the atmosphere is lively but not overly packed. It's a good time to experience Bodrum's nightlife with a bit more room to breathe.
May is particularly suitable for families with young children, offering the opportunity to enjoy outdoor activities without the scorching heat of summer. Beaches, parks, and attractions are less crowded, providing a more relaxed and child-friendly environment.
The average age of tourists varies, but in May, you might find a mix of younger couples, families, and older travellers seeking to avoid the peak season's hustle and bustle. It's a month that has something to offer for all age groups.
As May approaches the high season, tourists start arriving from various parts of Europe, especially the UK, Germany, and the Netherlands, as well as a mix of domestic tourists from Turkey. The allure of pleasant weather and reasonable costs make it an attractive time for diverse travellers.
Clothes to pack for May in Bodrum
When packing for Bodrum in May, one must consider the mild and agreeable weather. Daytime calls for T-shirts, light trousers, or skirts, while a medium-weight jacket or shawl might be wise for the cooler evenings. Comfortable walking shoes are highly recommended for those planning to explore, along with swimwear for beach outings. In a nutshell: bring T-shirts for the day, something warm for cooler nights, and don't forget a comfortable pair of shoes for exploring the rich history and vibrant street life.
The best months to visit Bodrum
The ideal time to visit Bodrum depends on your preferences, but generally speaking, late spring to early autumn is considered the most appealing. April to June offers a blend of comfortable temperatures and fewer tourists, perfect for sightseeing and outdoor pursuits. July and August cater to those who revel in the heat and vibrant nightlife, though it can become crowded. September and October continue to offer warmth and a retreat from the busyness of peak summer months.
The worst months to visit Bodrum
Visiting Bodrum from November to February might be less appealing for those looking for the quintessential coastal holiday. The temperatures drop, rainfall increases, and many resorts and attractions wind down. Although this period offers a quieter and more authentic experience, if you're seeking sun, sea, and bustling beach life, these months may leave you wanting. Many tourist services are limited or closed, and the weather can become unpredictable.
Fantastic activities for Bodrum during May
1) Explore the Bodrum Castle: The Castle of St. Peter, commonly known as Bodrum Castle, is a fascinating site to explore during your May visit. With less crowded pathways, May offers a relaxed opportunity to delve into the castle's rich history, enjoy stunning views over the harbour, and visit the Museum of Underwater Archaeology housed within. A blend of medieval architecture and picturesque vistas makes this a must-see.
2) Set Sail on a Gulet Cruise: May is an excellent time to embark on a Gulet cruise, traditional Turkish yachts, and explore the gorgeous Aegean coastline. Enjoy the calm seas and soothing sun, visit hidden coves, and perhaps even spot some early-season dolphins. Many operators offer day trips, making this an accessible and delightful way to see Bodrum from a new perspective.
3) Discover the Ancient Theatre of Halicarnassus: The mild weather in May is perfect for outdoor explorations, and a visit to the ancient theatre of Halicarnassus is highly recommended. A well-preserved example of Greek architecture, this theatre provides a glimpse into the historical artistry and social gatherings of the time. Its hillside location offers beautiful views over the city.
4) Wander Through Bodrum's Markets: Experience local life by wandering through Bodrum's bustling markets. From fresh produce at the food market to textiles and traditional crafts at the weekly bazaars, you'll find an array of authentic Turkish goods. May's comfortable temperatures make strolling through the markets a pleasant experience, and you may find special deals as the tourist season is just kicking off.
5) Enjoy Outdoor Dining and Seafood: Bodrum is renowned for its delicious seafood, and May's beautiful weather provides a perfect opportunity to dine al fresco. Whether at a beachfront restaurant or a local tavern tucked away in a village, you'll be able to savour fresh fish, mezes, and local wines while enjoying the gentle sea breeze.
6) Take a Day Trip to Ephesus: May is an ideal time to take a day trip to Ephesus, one of Turkey's most significant archaeological sites. Explore the stunning ruins of this ancient city, including the Library of Celsus and the Great Theatre. May's pleasant weather allows for comfortable exploration, and the smaller crowds mean you can immerse yourself in the historical atmosphere without feeling rushed.
7) Relax on the Beaches: May is when Bodrum's beaches start to become more lively but are still not overcrowded. Enjoy sunbathing, swimming, or trying out water sports at popular spots like Gümbet or Bitez Beach. The sea temperature is becoming increasingly pleasant, and the overall vibe on the beach is relaxed, making it a wonderful time to soak up some Turkish sun.
8) Join a Turkish Cooking Class: Experience the rich culinary heritage of Turkey by joining a cooking class. May's delightful weather makes it a lovely time for market visits and outdoor cooking lessons. Learn to prepare traditional Turkish dishes, from appetizers to desserts, guided by local chefs. It's not just a cooking lesson but a cultural exchange that provides insights into Turkish lifestyle and traditions.
Other holiday destinations recommendations for May
For those seeking a spring escape, let's embark on a journey to explore the globe's diverse delights. From idyllic islands to bustling seaside towns, here are six perfect destinations for an May vacation.
i) Algarve, Portugal: Sun-drenched beaches are synonymous with Algarve, and May is an ideal time to visit. The weather is warm and sunny, perfect for a dip in the sea or a day of sunbathing. There are fewer tourists, so you can have plenty of beach all to yourself. Plus, with an array of fishing villages to explore, Algarve offers more than just sun and sand.
ii) Sardinia, Italy: Sardinia in May is like stepping into a Mediterranean dream. The weather is just right – not too hot, yet warm enough for swimming. The beaches are picturesque, and the waters are a dazzling shade of blue. If you are an early bird, the sunrise over the sea is a sight not to miss.
iii) Tulum, Mexico: In May, Tulum presents an enticing blend of sparkling beaches and fascinating ancient ruins. The weather is delightful, the crowds are thinner, and the vibrant marine life in the crystal-clear waters makes for excellent snorkeling.
iv) Phi Phi Islands, Thailand: May marks the start of the off-peak season in the Phi Phi Islands, meaning fewer crowds. The weather is generally good, and the water temperature is just right for swimming and diving. Plus, the lush greenery in the rainy season makes the islands even more beautiful.
v) The Maldives: Despite being the start of the rainy season, May in the Maldives often sees long, sunny spells. The islands aren't as busy, and the rates are more affordable. If you're a surfer, May brings in some of the best waves of the year.
Or for non beach focused holidays consider:

i) Ljubljana, Slovenia: This charming European city blossoms in May. With its green spaces, bustling outdoor markets, and café-lined riverbanks, Ljubljana exudes a vibrant yet relaxed atmosphere. Enjoy the Dragon Carnival, an annual event in May, which adds a colourful touch to the city's streets.
ii) New York, USA: The Big Apple in May is a treat. The weather is mild, perfect for exploring the city's iconic landmarks or basking in Central Park. It's also the time for many of the city's cultural festivals, including the New York Dance Parade and Ninth Avenue International Food Festival.