Tenerife in October: the weather and best activities for your holiday
Are you searching for the secret to an endless summer? Tenerife, the largest of Spain's Canary Islands, just might hold the answer! In October, while many places start to pull on their autumn coats, Tenerife continues to bathe in the golden glow of the sun. The island, also known as "The Island of Eternal Spring", celebrates the flavours of summer well into October, making it an idyllic choice for those seeking an extra dose of sunshine.
The beauty of Tenerife is not just in its sun-soaked days, but also in its vibrant culture, stunning landscapes, and warm hospitality. With a host of activities and attractions, from serene beaches to majestic volcanic landscapes, Tenerife in October offers an adventure that truly embraces all the wonders of summer with the gentle touch of fall. Let's uncover more about what this extraordinary island offers in October.
Tenerife weather in October
October paints Tenerife with a palette of warm temperatures. Daytime averages hover around a pleasant 23°C, just right for beach lounging or sightseeing. Nighttime brings a milder chill, with temperatures dropping to an average of 18°C - cool enough for a comfortable sleep.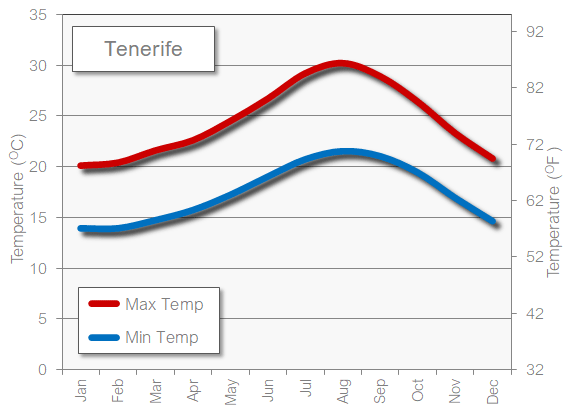 Sunshine remains a faithful companion in Tenerife during October, gifting visitors with approximately seven hours of sunlight each day.
The sun rises around 8 AM and sets near 7 PM in October, framing the day with picturesque scenes worth waking up early or staying out late for.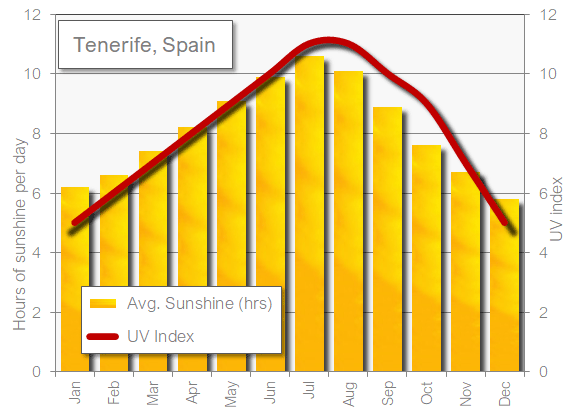 The arrival of October does signal the onset of a slightly wetter season. Rainfall averages around 26mm spread across six wet days, but worry not, as rain showers are often brief, leaving plenty of time for outdoor exploration.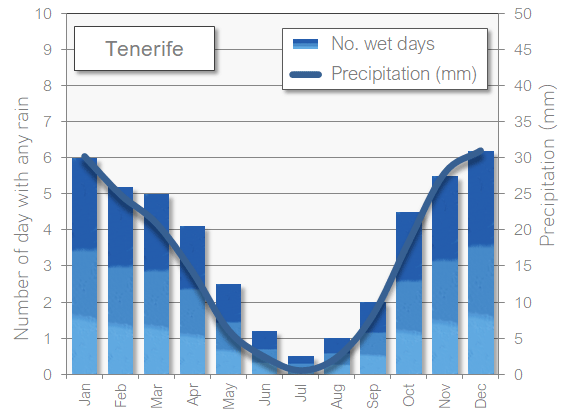 The resort during this period is moderately busy, with fewer crowds compared to the summer months.
Even the sea in Tenerife refuses to surrender to the autumn chills. The water retains a warm 23°C average, ideal for a refreshing swim, snorkelling, or even trying out some water sports!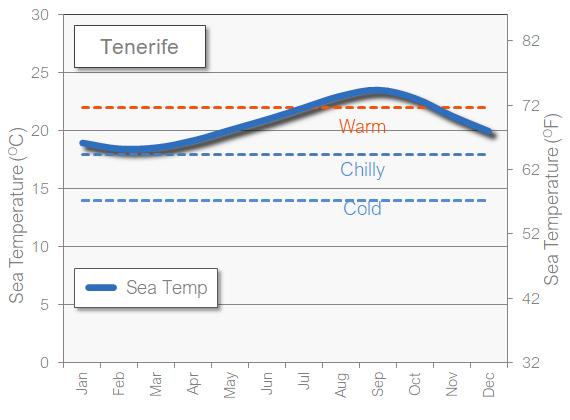 Visitors during October tend to be a mix of young couples, families, and mature travellers looking for a tranquil getaway. Many tourists at this time come from Northern Europe, particularly the UK and Germany, escaping the chillier autumn weather back home.
When it comes to value, October in Tenerife stands as an excellent choice. Accommodation and flight prices often drop during this time, making your dream vacation more affordable. Plus, with less crowd, you get to enjoy the island's attractions more leisurely.
Finally, families with young children will find Tenerife in October a great fit. The comfortable weather, combined with an array of family-friendly activities and attractions - think exciting water parks, interesting wildlife centres, and calm, safe beaches - promises a fun-filled and memorable family holiday.
In conclusion, October in Tenerife offers the best of both worlds – the joy of warm, sunny days coupled with the tranquillity of off-peak travel. For those yearning for a sunlit escape, a last slice of summer, or a place where the heart of summer never really leaves, Tenerife in October is your destination!
Clothes to pack for October in Tenerife
Packing for Tenerife in October? Your suitcase should definitely include shorts, t-shirts, and a swimsuit for those sun-soaked beach days and water park adventures. However, remember to pack a light jacket or a cosy sweater for the cooler evenings when the sun decides to take a rest.
The best months to visit Tenerife
To see Tenerife at its finest, consider visiting in February, March, or April. February ushers in the exciting Carnival season, while March and April offer pleasantly warm weather, averaging 20 degrees Celsius, ideal for hitting the beach or exploring nature. Plus, you'll dodge the summer tourist surge!
The worst months to visit Tenerife
Visiting Tenerife in August can be a bit challenging. The heat can spike above 30 degrees Celsius and the popular sights can be swarming with tourists. It might be a bit too hot and crowded for comfort.
Fantastic activities for Tenerife during October
Kicking off our list of must-do activities is a visit to the awe-inspiring Mount Teide National Park. October's pleasant weather makes it a fantastic time to explore this lunar-like landscape, and if you're up for an adventure, take the cable car up to Spain's highest peak for an unbeatable view.
Secondly, why not make friends with the local marine life? The warm October sea is perfect for snorkelling or diving, where you can meet turtles, rays, and a rainbow of tropical fish.
Next, unleash your inner thrill-seeker at Siam Park, one of the best water parks in the world! With a wave pool, lazy river, and a variety of exciting slides, it's a watery paradise for kids and adults alike.
Fourth on our list is the charming town of Garachico. This coastal gem, with its natural rock pools, charming architecture, and rich history, is an enchanting place to explore during the mild October days.
Finally, you can't miss out on a traditional Canarian fiesta! October is the month of festivals in Tenerife, with the most popular being the Fiestas de la Virgen del Rosario. Join in the celebrations and enjoy traditional music, dancing, and delicious local cuisine.
Other holiday destinations recommendations for October
1. Bali, Indonesia: October in Bali means fewer tourists, lower prices, and an island that's eager to share its natural beauty and rich culture. With average temperatures around 27°C, it's a great time for lounging on its golden beaches, exploring its lush landscapes, or trying your hand at surfing!
2. Dubai, United Arab Emirates: October sees Dubai transitioning from its hot summer to a more comfortable autumn. It's the perfect time to enjoy Dubai's pristine beaches, incredible waterparks, and impressive shopping malls. Not to mention, you can witness the magical sunset from its stunning skyscrapers or while on a desert safari.
3. Cancun, Mexico: If you're seeking crystal clear waters and soft, white sands, look no further than Cancun in October. The weather is warm, the summer crowds have left, and it's just before the peak of the rainy season, making it a great time for a beach holiday with a side of Mayan history.
4. Mauritius, Indian Ocean: October is a sweet spot in Mauritius' tropical climate, with less humidity, warm temperatures, and lots of sun. It's an ideal time to explore the island's gorgeous beaches, indulge in water sports, or visit the famous Pamplemousses Botanical Garden.
5. Crete, Greece: This largest Greek island stays pleasantly warm in October, making it a superb European destination for beach lovers. With the summer rush over, you'll have plenty of room to relax on its beautiful beaches, hike in its majestic mountains, or explore its ancient ruins.
7. Rome, Italy: The Eternal City in October is a dream! With cooler temperatures, fewer crowds, and the warm colours of autumn, it's an excellent time to explore the city's historical sites, like the Colosseum, Vatican City, and the Roman Forum. Don't forget to enjoy a scoop of gelato while strolling the charming streets of Rome!
8. Kyoto, Japan: October is one of the most beautiful times to visit Kyoto, thanks to the stunning fall foliage. The weather is cool and dry, perfect for visiting the city's many temples, shrines, and gardens. It's also the time for the Jidai Matsuri, one of Kyoto's three biggest festivals, making your trip even more special.